7 Tips to Address Number Reversals.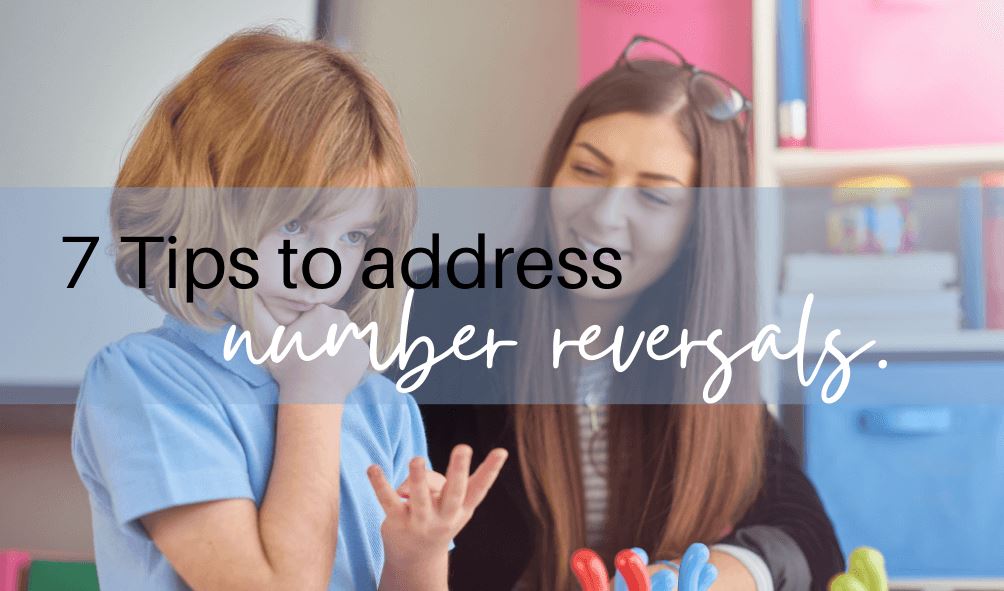 Why do children reverse numbers when they write?
I have been asked this question many times by concerned parents and teachers. Why do some children reverse their numbers and letters when they write? It is so frustrating to know that a child can do the math, but the answer is incorrect, because it was written the wrong way around!

It is important to remember that when young children start writing, they often reverse their letters and numbers or write them the wrong way around. It is still age appropriate for your 4 and 5 year old to reverse their numbers, but it becomes increasingly important that children form and write their numbers correctly when they start formal schooling.


It is interesting to note that children who tend to reverse their numbers, often start numbers in the wrong place and then form the numbers incorrectly.

Sometimes there are also visual-perception difficulties that contribute to the reversal of numbers and letters in the classroom.

As an occupational therapist, I often get questions from parents and educators about the best way to address these challenges. Here is some general ideas and guidelines.
______
What can we do?
If children learn how to form and write their numbers correctly in a multi-sensory way, the unnecessary reversal of numbers can be prevented. A learner who no longer has to wonder "how" to form numbers, and where the formation of numbers takes place automatically, can shift his/her attention to the math sums at hand, instead of spending time wondering how to write the numbers.
A little advice:
Children need to learn through experience: there are several wonderful dance along-songs on YouTube that encourage movement and teach number recognition in a fun way.

Use sensory experiences to practice number formation.
Practice writing the numbers in different textures e.g. shaving foam or in jelly (always a favorite). Build the numbers with clay, cut numbers out of sanding paper and let your child write on it with his/her finger. A child needs to feel how the number is formed. There are lots of activity ideas on Pinterest if you are in need of some inspiration.

Multi-sensory learning has proven to be one of the best ways to learn.
I always encourage children to verbalize forming each number while writing it. Multi-sensory learning means: "If I experience it, hear it, see it, and feel it, I will remember it".
Play number games and practice number formation in interesting ways e.g. pack the numbers with pebbles or buttons.
Be creative and use different activities to keep the kids interested.
Play games to encourage recognition of numbers regularly. You can read the numbers of the houses along the road while driving in the car. Search for numbers on pictures or in the environment. Accidental learning makes a big difference and helps children feel more comfortable working with numbers.
Count everything you see!!! Make a game of counting objects and make an effort to play board and card games with your child.
Use cognitive strategies for teaching the correct way to form numbers and to remember what each number looks like.
Encourage children to check whether they have written their numbers the right way around.

I hope you find the information useful!
Remember: Keep it interesting, stay patient and enjoy discovering the world of numbers with your child.
We have various resources aimed at foundation phase learners, teaching the correct method for forming each of the numbers utilizing an animation video and worksheets for consolidation.
It includes the story of numbers 1 to 10 as well as a strategy for the prevention of reversal of numbers 2, 3, 4, 5, 7, 9, and 10. Presentation is practical, child-directed, and lots of fun.  View or some of our product below or visit our website.  Available in English and Afrikaans.
For more information.

Follow our Facebook page for regular activities and ideas to enhance your child's development or visit our online store to view our educational and therapeutic resources.

Number Reversal Bundle R150
The product was developed to prevent the reversal of numbers when writing. Aimed at foundation phase learners, this program focuses on teaching the correct method for forming each of the numbers utilizing an animation video and worksheets for consolidation.

Number Names R120
Playdough is a creative way to practice fine motor skills and consolidate aspects such as number concepts, number formation, and number names. It has the added benefit of engaging kids in a fun, creative way and strengthening those hand muscles to develop fine motor skills.